Let's not deny our love of shopping. But let's admit that it does have a huge impact on our environment. The good news is that as consumers we have the power to make a positive change in the way we shop and can make choices that have a significant impact on future sustainability. By making better choices, together we can help encourage retailers and manufacturers to prioritise sustainable attitudes and processes.
So together, let's pull up our boots and start making more informed shopping choices. Our Sustainable Shopping Checklist is a great way to become a more conscious consumer, whether it's a once-in-a-decade investment buy or an impulse purchase, your choice makes a difference.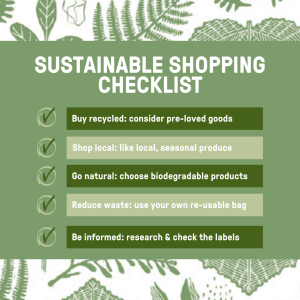 The Responsible Shopper Guide
Buying recycled or pre-loved goods is a great option, especially when it comes to clothing and furniture. Whether you prefer shopping in person, head into an opp shop or second-hand furniture store. Not only are you giving these items a second life, but you'll also be supporting small businesses with unique pieces. Otherwise, online is bound to have what you're looking for. Services like Facebook Marketplace, Depop, eBay, Gumtree, and Trade Me are some of the most popular buy, swap and sell platforms.
Due to customer demand, retailers are increasingly becoming more eco-friendly in their manufacturing processes and are using sustainable materials. Kathmandu has launched its latest collection with artist Mulga doing just this. If you're after new activewear, we suggest looking at Rebel's offering with brands like Adidas that are beginning to prioritise sustainability. It's time to make a splash with their Infinitex Fitness Eco Swim range created from chlorine resistant fabric, designed to last for years to come. The BAHE Elementary Yoga Mat is constructed from recycled materials (TPE) while the slip-resistant design provides excellent stability across various surfaces. 
We deserve better than toxic chemicals, and our planet does too. No matter what your budget, skin type, or preference is, you can go all-natural with organic and ethical beauty products. Sister's Beauty is home to local skincare brand, Love Skin Oils, while Chemist Warehouse stocks cult favourite eco-friendly brands like Burts Bees, TOM Organic, and Sukin Naturals.
Make your little, everyday actions have a positive impact. Small changes like switching to reusable cups, bottles and straws instead of takeaway or plastic, or remembering to bring a reusable tote bag in your weekly shop, can make a big difference. Briscoes is home to all things sustainable, from cleaning products to bedding, umbrellas, eco-shopping bags and everything in between.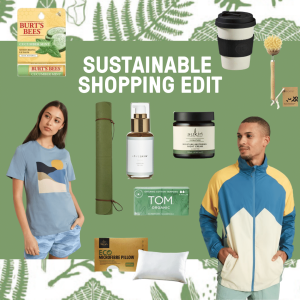 The Sustainable Shopping Edit: Burts Bees Lip Balm, Kathmandu Women's T-Shirt, BAHE Yoga Mat, Briscoes Bamboo Pillow, TOM Organic Tampons, LoveSkin Facial Serum, Sukin Night Cream, Kathmandu Wind Breaker Jacket, Briscoes Dish Brush, Briscoes Reusable Coffee Cup