Staying healthy and active is essential for both our physical and mental health, but sometimes it can be a real struggle to get up and get moving. Whether you're looking for a transformational workout program, a delicious and nutritious breakfast recipe or some fresh new kicks, we have curated some daily inspiration. So get ready, get steady, GO!
Work It Out
As the weather gets warmer, and the doors of our favourite gyms open back up, you're probably contemplating whether or not you want to renew your gym membership, continue to rely on YouTube at-home workouts, or stick to that usual run route. Or perhaps you're looking for something fresh and exciting all together. If so, we have the ultimate fun and easy to follow workouts so you can get your sweat on this Spring.
If you're after the one-stop fitness club you can access virtually from the comfort of your own living room, Every Day You (EDY) could be just what you're looking for. EDY has personalised workouts created by some of NZ's most qualified and experienced trainers. Ad-free variety is what you'll get. Choose from fitness, strength, pilates, yoga, meditation and much more so you can awaken the mind, body and soul. 
Something that is hard to beat, is a good old fashioned gym. They offer fitness at your fingertips with their membership including virtual, on-demand workout classes. The Henderson Club will open up at Alert Level 2, for all CityFitness Covid-19 updates, check out their website. However you move at CityFitness – show up, sweat, stretch, repeat. 
If you want some extra motivation to kick those running goals, perhaps even get you training for that marathon, then give the Nike Run Club App a go. It has all the tools you need to run better, including GPS tracking, audio-guided runs, and customisable challenges. What's even better is their Spotify playlists. Yes, there's even a playlist called "Don't Want to Run Run", something we relate to, and can confirm it's an instant motivator to get out the door.
There's a certain sense of accomplishment that comes after working out and having your two servings of fruit and vegetable before 10 am. Smoothie bowls are one of the easiest ways to do this and can be mixed up every time with a few ingredients and toppings. This smoothie bowl is not only the tastiest way to sneak superfoods into your diet but also really quick and easy to make.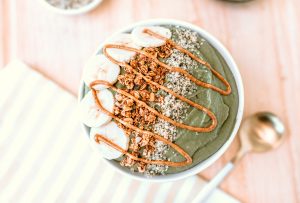 Smoothie (makes two)
¼ ripe avocado

2 medium ripe bananas (previously sliced & frozen)

150g fresh or frozen berries (we love strawberries/raspberries)

2 large handfuls of spinach

1 small handful of kale leaves

200ml of milk (any of your choice)

1 tbsp salted creamy almond or peanut butter (optional)

For more protein, add your favourite protein powder
Toppings (optional)
Raw or roasted unsalted nuts

Granola

Shredded coconut

Fresh berries

Chia Seeds

Raw cacao nibs
Add all the smoothie ingredients to a blender and blend until creamy and smooth. Add extra ripe banana or maple syrup for sweetness. Top with desired toppings, and enjoy! While it's best enjoyed fresh, you can keep leftovers in jars for 1-2 in the fridge.
Put a Spring In Your Step
Whether you're going for runs or need something comfy for daily wear, we've found a pair for every occasion. From sneakers to slides and sandals, discover this season's essential footwear.
Shop the edit: Brown Sandal, White Green Sneaker, Pink Sneaker, White Slides, Navy Sneaker, White Sneaker, Black Jandals, White Sneaker, Black Sneaker